Collected Letters of the Widow Flannigan
Feb 04
[video]
Dec 20
New Woman fancy dress, 1896 England, Fancy Dresses Described by Ardern Holt

(See Illustration, Fig. 29.) She wears a cloth tailor-made gown, and her bicycle is pourtrayed in front of it, together with the Sporting Times and her golf club; she carries her betting book and her latch-key at her side, her gun is slung across her shoulder, and her pretty Tam o' Shanter is surmounted by a bicycle lamp.  She has gaiters to her patent leather shoes, and is armed at all points for conquest.

This girl CAN. NOT. BE. STOPPED!!
Nov 06
Macabre parody of "Le Petit Echo de la Mode", the first magazine for women (1880)
(Source: loveage-moondream, via mudwerks)
Vote Today, And Every Day
Yes, yes, everyone's very excited to go fill in their little bubbles of quadrennial ineffectuality. Don't forget to vote! Blah blah blah.
Just keep in mind for, y'know, the next four years: Your political responsibility doesn't end when you get an "I Voted" sticker.
Give your money, your time and your attention to causes that matter to you.
Pay attention to who your representatives are, and whether or not they're representing YOU.
The presidential election is all shiny and exciting and sexy, like choosing a new car — true political involvement is like owning a beat up Chevy that keeps making strange noises and knowing you can't get rid of it for a few years…. but STAY ON IT, PEOPLE.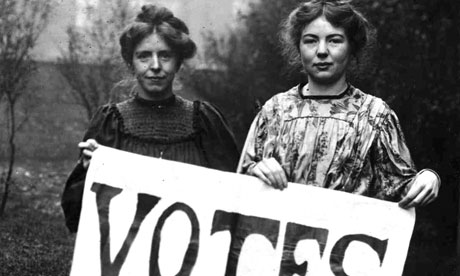 Nov 05
lauren ashley bishop lives here: i sent my mom an email to ask her not to vote for romney -
mad props to lauren bishop for this heartfelt letter, please read and pass it on. 
I want to tell you to not vote for Romney for a lot of reasons.

I want to remind you how devastatingly dishonest he's been regarding his own finances. How he basically committed a felony in 2009 which is why he won't release his tax returns for that year.

How he lied blatantly about the auto…
Nov 02
body envy.
(Source: hidden-under-the-mattress, via trixietreats)
[video]
Pea Blossoms
Edward John Poynter
1890 
'sup
ca. 1870-79, [tintype portrait of a pantomimist]
Tattoo artist Cindy Ray in her studio, Australia c. 1960's